I am a PPC Consultant with over 10 years experience. My area of expertise is in helping companies offering a service as opposed to those selling a physical product. For instance law firms, accountants, plumbers, dentists… Anyone that receives most of their enquiries by telephone as opposed to receiving orders through a website.
As a PPC Consultant I have helped clients gain up to 20x return on investment.
PPC Consultant Results
The campaigns I manage perform better than most competitor's. Here is a campaign I took over from another PPC Consultant. As soon as I launched my amended version of the campaign the number of enquiries increased by more than 5 times and the cost per enquiry dropped from £100 per enquiry to £15 per enquiry.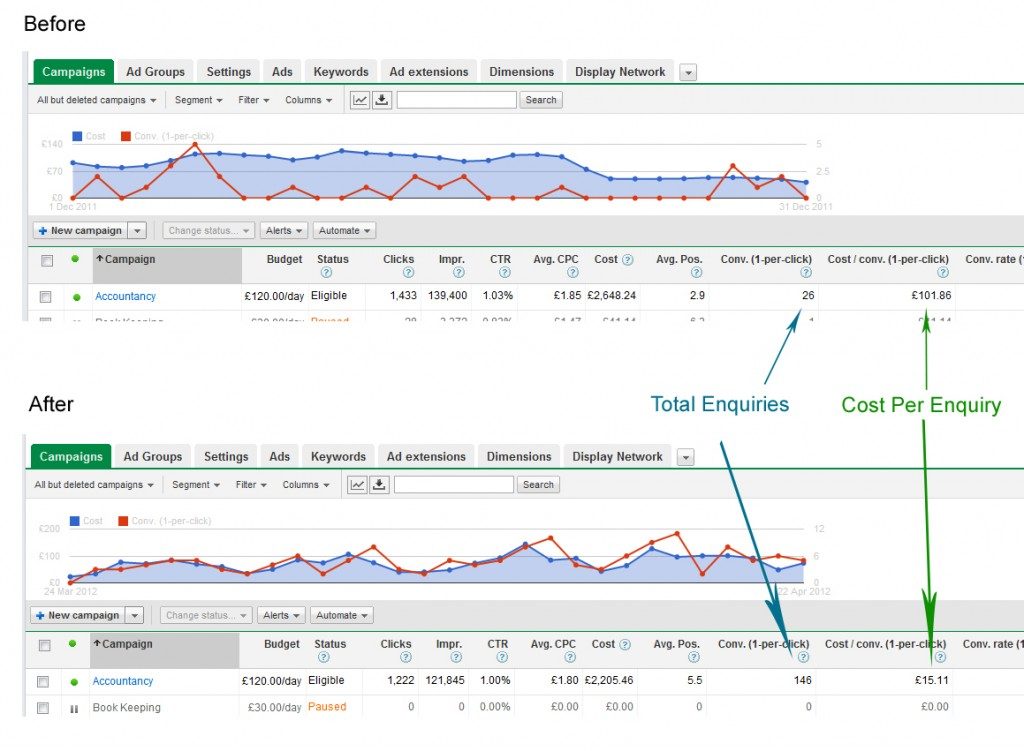 Luckily that campaign had already accumulated a lot of data that I was able to use to improve it dramatically just by adjusting keyword bidding without any other changes. Normally it takes a long time to improve a campaign this much. This original PPC Consultant had failed to act upon the data available to them. Mainly data that shows the conversion rate of all the different keywords.
"The work you have done on the PPC so far is having great results already we are getting 10 times the enquires we were previously." – part of an email from the above client (it was actually 5.6x more enquiries but who am I to argue with a compliment!)
Why Service Based PPC Campaigns?
Advertising a service is very different from advertising a product. Here are some of the big differences.
Landing Pages
With physical products a user can often get the same or similar product elsewhere so you are mainly competing on price. A service is very different and the quality of the service depends largely on the individual providing the service. Different individuals and teams will have different expertise and different levels of experience in different areas and also different processes for delivering their service. Expertise, efficiency and value for money will all be different from one provider to the next.
This makes your landing page copy very important to the whole process. It is important that it is used to display your company as experts in their field providing an efficient, effective and high quality service. From doing a good job of representing a client in court to being able to provide caring and pain free teeth removal, depending on your sector.
When promoting a service using PPC you always want to use bespoke landing pages that match the keywords the visitor used instead of using your main website. So if they search for a "lawyer" instead of a "solicitor" or in my case an "adwords agency" instead of a "ppc consultant" you want the page to match what they searched for. This improves your quality score and your conversion rate. Bespoke pages often double the amount of enquires you receive for your budget. If you have an existing provider and they aren't using bespoke landing pages this may be cause for concern!
Keywords
The range of keywords is often much broader for a service than a product. Including direct searches like "ppc consultant" and a much larger number of indirect informational searches like "how do I improve my adwords ctr". Even similar terms like "ppc agency" vs "ppc agencies" turn out to have very different conversion rates i.e. you may find 5% of people who search for "ppc agency" may call you up or fill in the enquiry form vs 8% for "ppc agencies". Also someone searching for "ppc agency" might be a larger client than someone typing in "ppc consultant" However someone searching for "ppc consultant" may have a particular complex problem they need consultation on.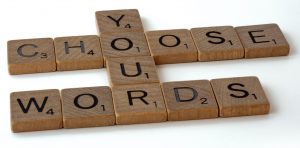 It can take a long time to gather enough data to calculate conversion rates like the above for service based campaigns as the searches are spread out across a lot of different keywords. Once gathered the data can improve your campaign a lot. This is how most of the improvements were made in the campaign shown in part 1. It can make a big difference.
It takes a lot of human input and experience to estimate conversion rates until you can get that data. You really have to think about the thought processes behind each keyword choice. It takes a lot more thought than working our what someone is looking for if they search for "blue widget" instead of "red widget".
The spread of keywords is so wide for some services that you never accumulate enough data on some of those keywords to know for definite what the conversion rate is so you are very dependant on your interpretation of the meaning of the keywords i.e. what does a searcher mean when they type in "consultants" instead of "consultant". Are they looking for the same thing, are the looking to compare a few consultants or do they want to understand how PPC consultants work in general?
Bidding
Cost saving is a big part of managing a campaign for a service based company and this is due to the number of information searches and research people do. For instance they may research employment law before trying to sue their boss, research plastering before they decide what work they want doing on their house or research different types of teeth whitening before consulting a dentist. In my market, for example, anyone that types in "adwords" or "ppc" could be a potential customer. The conversion rate to enquiries would be very low for most broad search terms containing the word Adwords like "how to set up adwords".
However low doesn't mean zero conversions so you want some of those visitors if you can get them for a low enough price but if you can't get them for a low price you would be better not getting them at all. For instance if I was paying £3.00 per click for a highly relevant term like [PPC Management Services] then 30p per click for generic terms with the words +improve +Adwords in like "how to improve adwords roi" might be profitable. However paying £3.00 a click for both those terms as though they are equally good would be a disaster!
If you imagine paying a lot for every keyword that is even slightly relevant that you come first all the time you would get 100% of the business available to your campaign but the cost would be astronomical. A really cost efficient campaign may get you 70% of this avialable business but for 20% of the cost. Giving you a 3.5 times better return on investment. It also leaves less knowledgeable competitor's open to being outmanoeuvred and paying a high price for the unprofitable traffic that you avoided. This 3.5x return on investment would then be multiplied by whatever other improvements you make like a 2x improvement for using bespoke landing pages would result in 3.5 x 2 = 7 times more ROI than before.
If you are interested in help with your PPC campaign feel free to call me now to discuss.